This should be your first course of action when attempting to recover a deleted file or folder. The Recycle Bin is a special folder that is designed to hold deleted files temporarily. Files and folders which are deleted by the OS reside in the Recycle Bin until the bin is either manually or automatically emptied.
To restore files from the Recycle Bin:
Open the Recycle Bin by double-clicking on it, or by right-clicking and selecting Open.
Search for the file or folders that you wish to recover.
Right-click on your selections and choose Restore.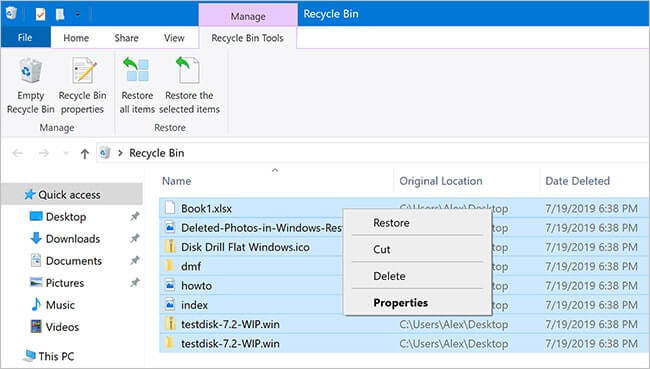 This procedure will restore the data to its original location on the hard drive. You will not be able to successfully use this process if you have emptied the Recycle Bin after the files were deleted and before you tried to recover them. If that is the case, you will need to try the next method to get back your lost data. Large files that are too big to fit in the Recycle Bin will be immediately permanently deleted and also cannot be recovered in this way.