How to Recover Data From an SSD Hard Drive
How to Recover Data From an SSD Hard Drive
Can Files Deleted From an SSD be Recovered?
Files that have been deleted from a solid-state drive can be recovered under certain circumstances. If you have TRIM enabled to make your drive more efficient, you will probably not be able to restore the lost files without a backup of the data. On SSD drives where TRIM has been disabled, recovery software may be able to get the files back. The software can also be helpful for recovering accidentally formatted partitions or to address SSD performance issues.
Use Case
Corruption of an SSD drive can have major implications for a computer user, as this user found out. No one wants to see the dreaded blue screen of death (BSOD) when they turn on their computer. Random occurrences of this problem are even worse, as one is always nervous that it might happen now and destroy your work. It's a small example of the kinds of problems you can encounter with an SSD drive that might require data recovery.
Before we start
The most important thing you can do in any data loss scenario is to stop using the affected device as soon as possible. Further use of the drive risks overwriting the data you hope to recover. Since your laptop may have an SSD as its main storage device, this means you should stop using your computer until the data loss situation is resolved.
You can and should try to create a byte-level backup of the SSD that can be used for recovery purposes. This is especially useful if your drive is experiencing problems that indicate it may be failing. Disk Drill can create this type of backup which includes deleted data that can be recovered from the backup media.
As previously mentioned, if TRIM was enabled on your drive it is unlikely that data recovery software will restore your data. Keep that in mind as we discuss recovering your lost data with Disk Drill. We have chosen this tool for its track record of reliable recovery and its facility for creating byte-level backups.
How to Restore Files From an SSD Hard Drive Using Data Recovery Software?
Here are the steps to use to restore files from an SSD drive using Disk Drill. The tool is available for Windows and Mac computers. The user interfaces are slightly different which we will note in our directions. The Windows version of Disk Drill allows you to recovery 500 MB of data before upgrading. Mac users can preview all recoverable files with the trial version before upgrading to a paid solution.
1. Download and install the appropriate Disk Drill version for your operating system.
You cannot perform the download and installation using the affected SSD drive without risking overwriting the data. You can use an external or USB drive for the download. An even safer tactic when dealing with an SSD is to use a different computer to perform the installation and recovery and treat the original computer as an external device.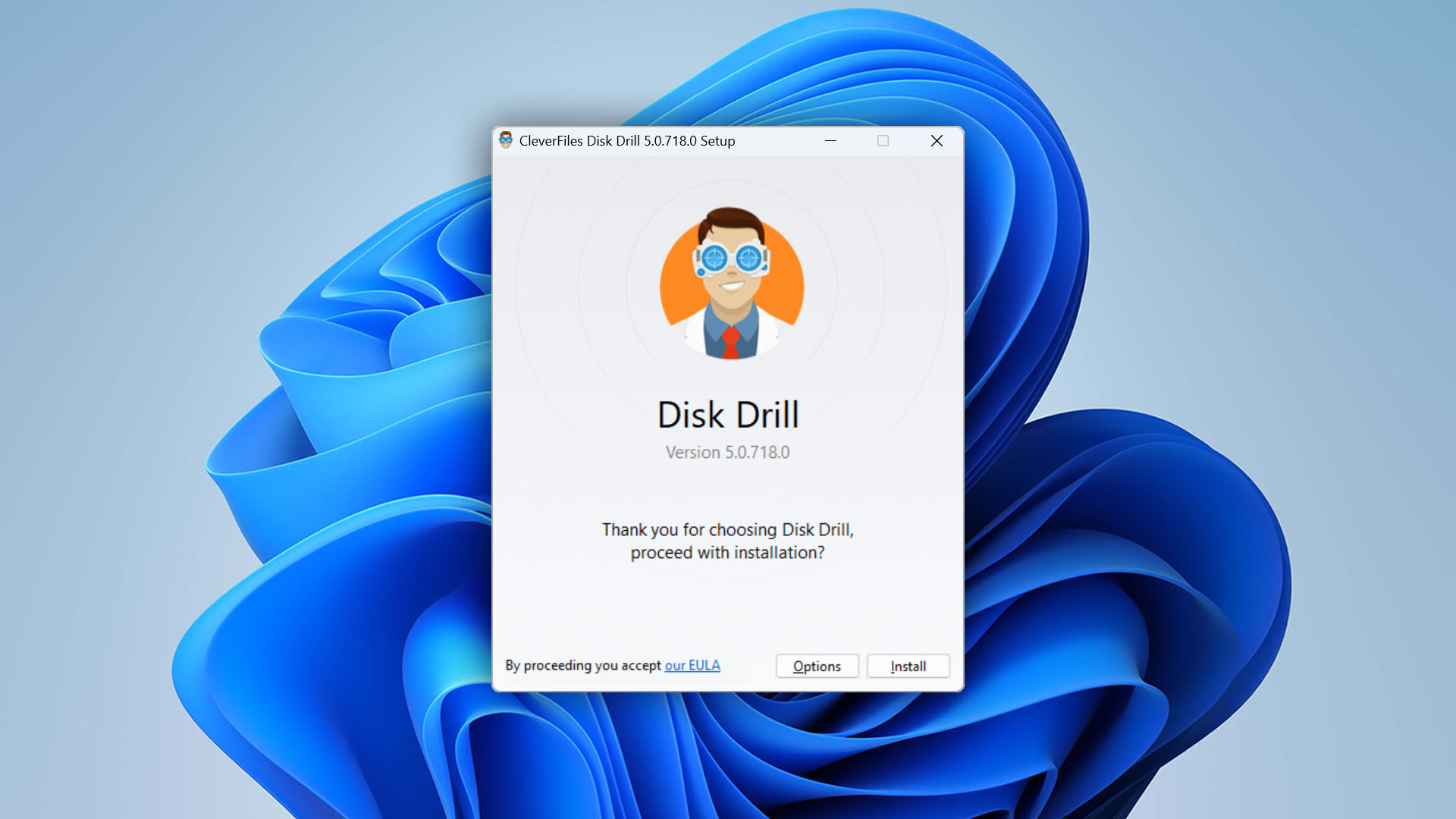 2. Connect the SSD to the computer and launch Disk Drill.
The app's main window will present a list of available disks for recovery. Choose the affected SSD from the list.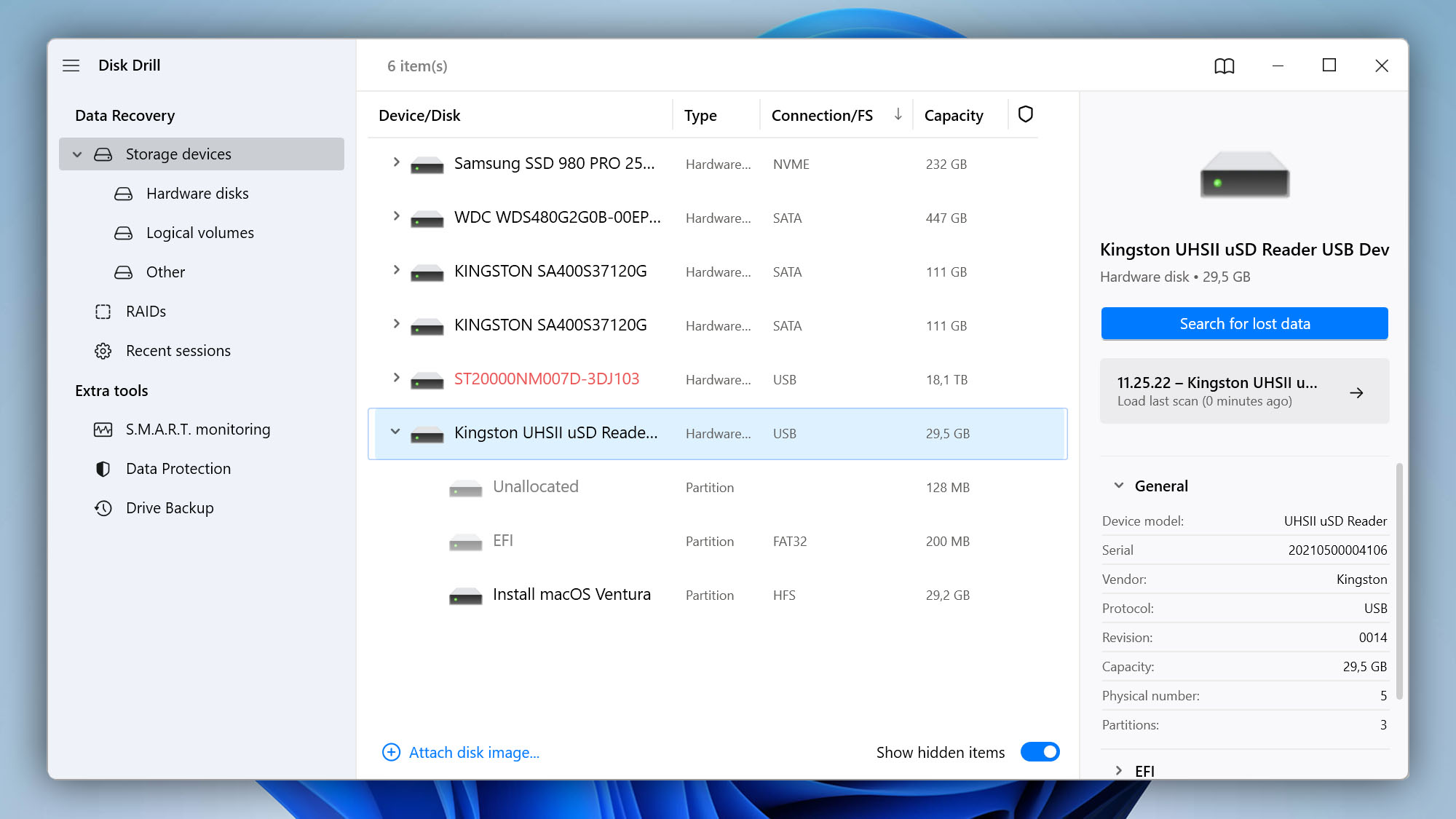 3. Scan the SSD for deleted files and folders.
Click the Search for lost data button to start this process. In either case, this will initiate the scanning algorithms to search the SSD for recoverable data. You can choose to have the software use all of its scanning procedures in optimal order or select a Quick or Deep scan. Be advised that while an "All recovery methods" scan will produce the best recovery results, it can take several hours to run on a large SSD.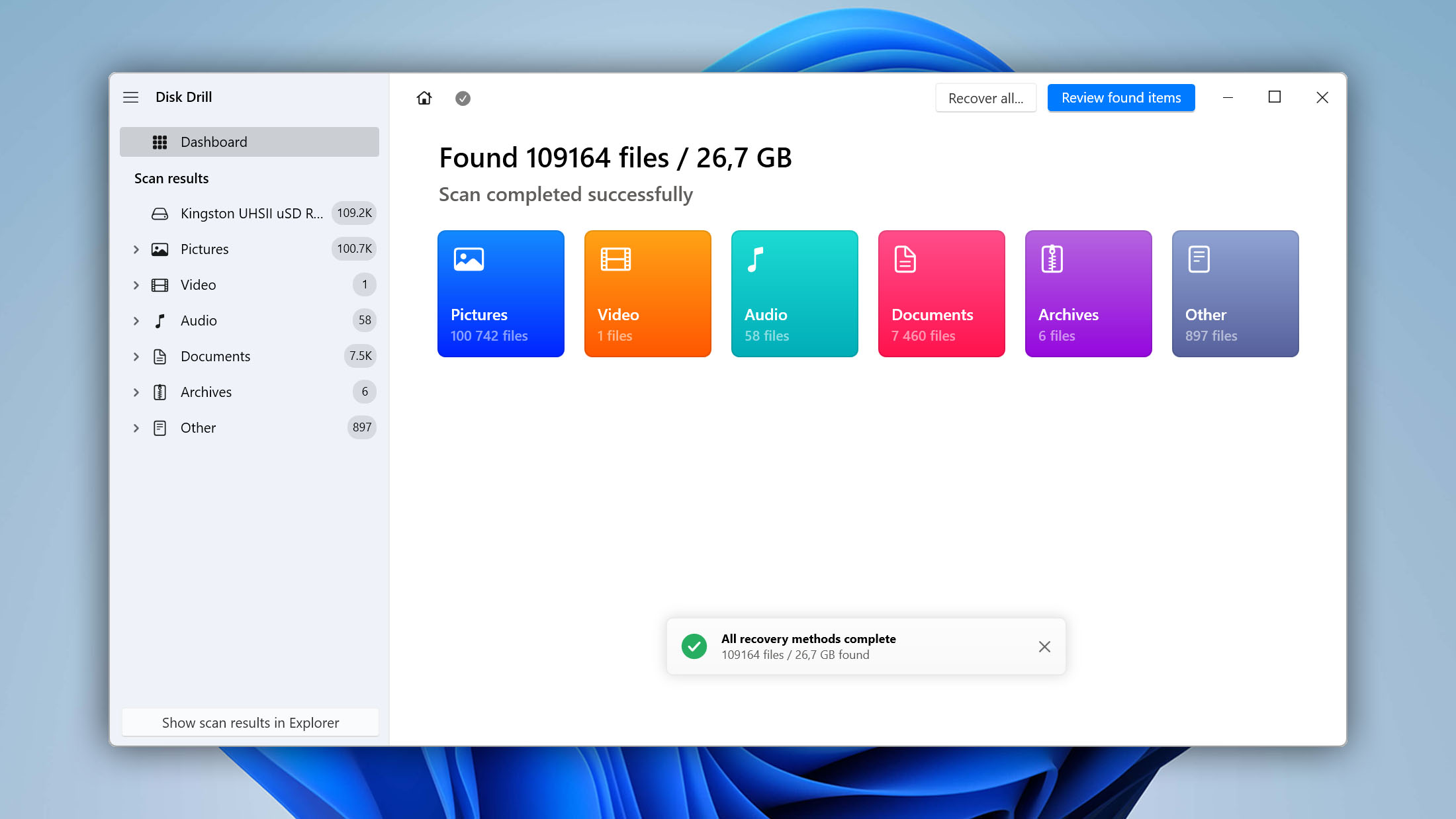 4. Preview the recoverable data found by the scanning process.
You can pause the scans at any time and restart them at your convenience. Files can be previewed while the scan is proceeding and as they are found by the recovery software. You can specify a file name or filter the scan results to focus on the type of files you want to recover. You will be able to preview the contents of a found file even if the software could not reconstruct its file name.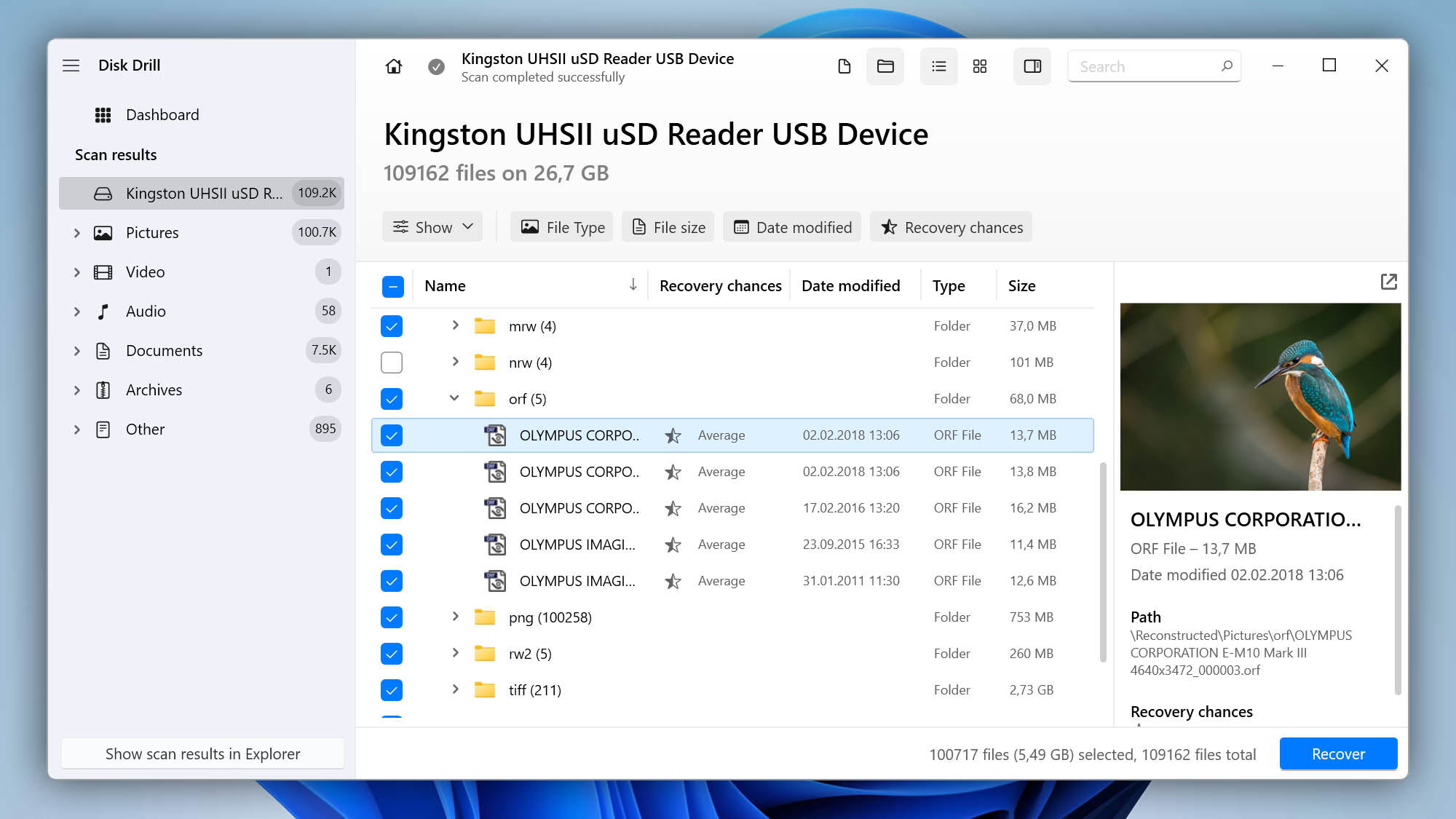 5. Select the files you wish to recover and a safe location to store the data.
Do not use the device from which you are recovering data, as this can lead to a failed or corrupted recovery. Click the Recover button to perform the recovery. This command instructs Disk Drill to restore the selected files to the storage location you have specified.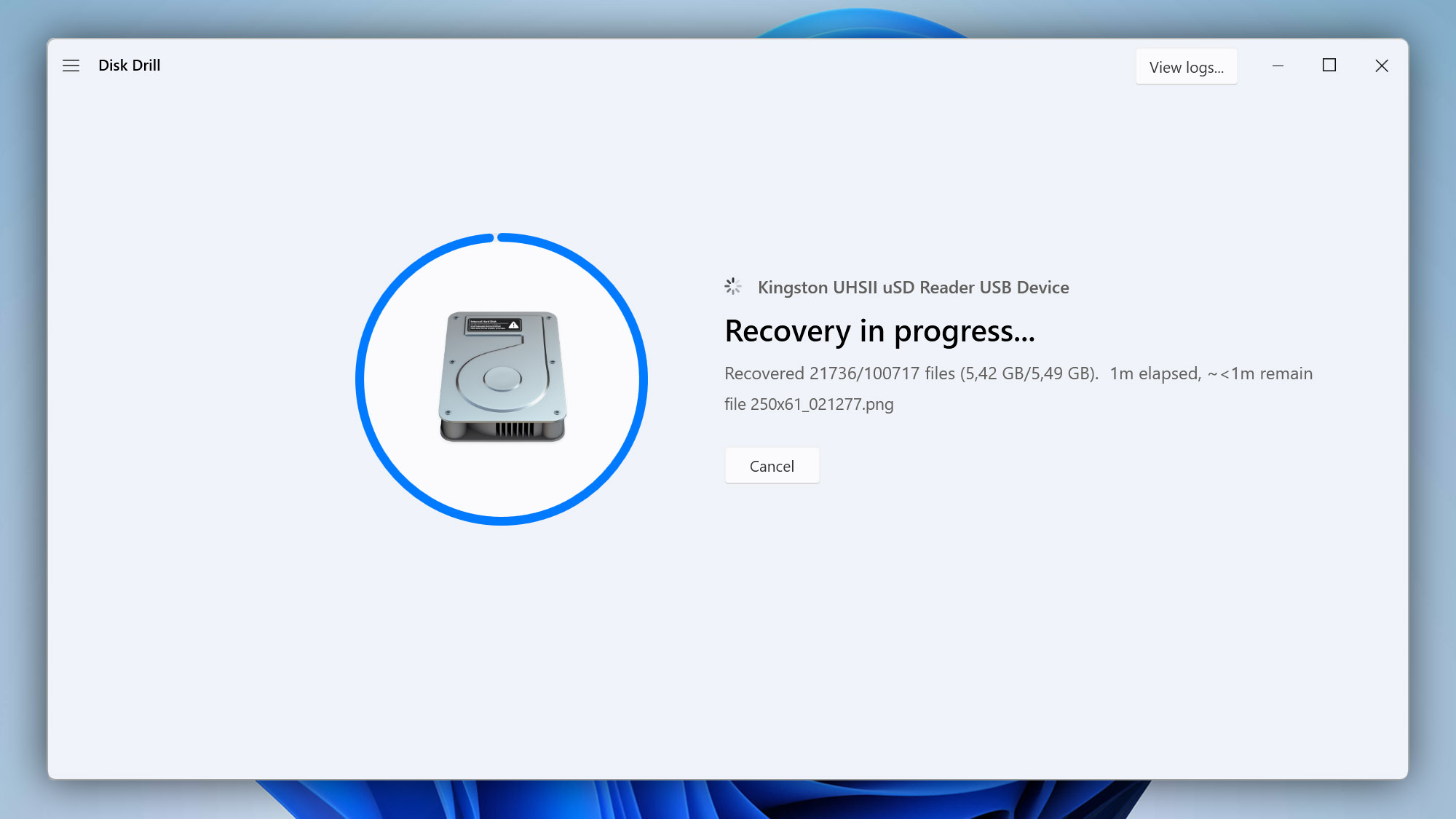 SSD Recovery Software: What are the best options?
When looking for SSD recovery software some factors need to be considered. You want a tool that is easy to use and that does not require extensive knowledge related to data recovery procedures. The software needs to support a full range of SSD devices and the computers that use them for internal storage. You also want a tool that can recover any type of file or filesystem you are likely to be using on your SSD.
Based on these criteria, Disk Drill is a viable option when faced with recovering data from a solid-state drive. It features an intuitive and user-friendly interface that enables you to recover your data with a few clicks. It also provides support for the devices and files you need to restore. Disk Drill supports:
SSDs from all major manufacturers including those from Samsung, Intel, Kingston, Toshiba, Seagate, Western Digital, and Micron Technology.
Laptops and computers from Apple, Lenovo, Dell, Acer, Microsoft, Hewlett-Packard, Samsung, Toshiba, Huawei, and ASUS.
Filesystems – Disk Drill supports the following file systems: FAT/FAT32/exFAT, NTFS, HFS/HFS+, APFS, EXT3/EXT4, and any RAW disk format.
File Types – Disk Drill recognizes and can reconstruct over 400 different file types in deep scanning mode. This includes all popular audio, video, image, and document formats as well as many lesser-known file types.
Here are some alternative SSD data recovery tools that you may want to investigate.
R-Studio is a paid solution that provides similar functionality to Disk Drill but employs a more complex interface that is designed for data recovery professionals. It includes many features that are not necessary for the majority of data recovery scenarios.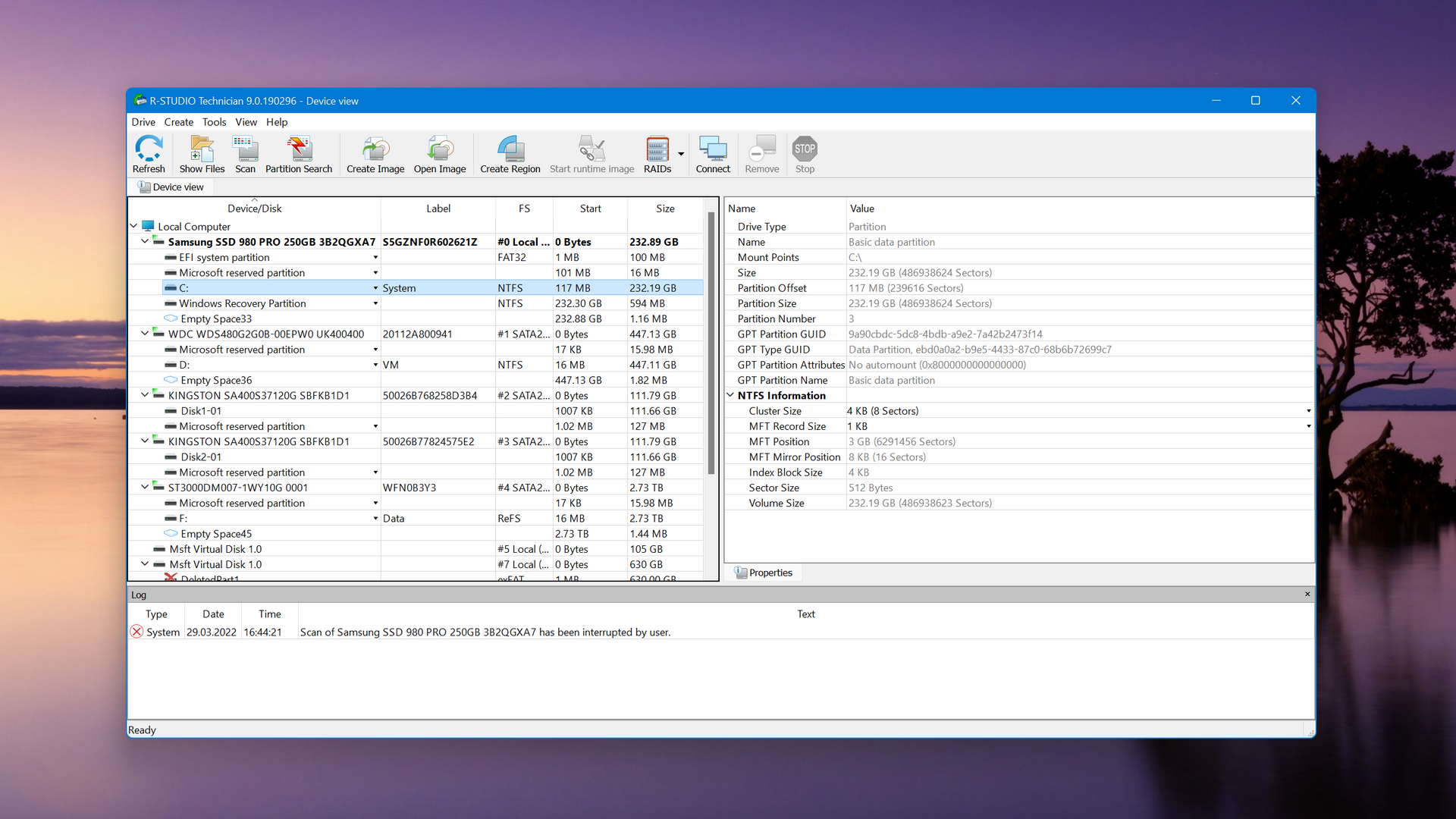 PhotoRec is a freeware tool that is compatible with many operating systems and filetypes. It uses a command-line interface and does not recover filenames which makes it difficult to use efficiently. If you are looking for a cheap way to recover files, you might want to give it a try.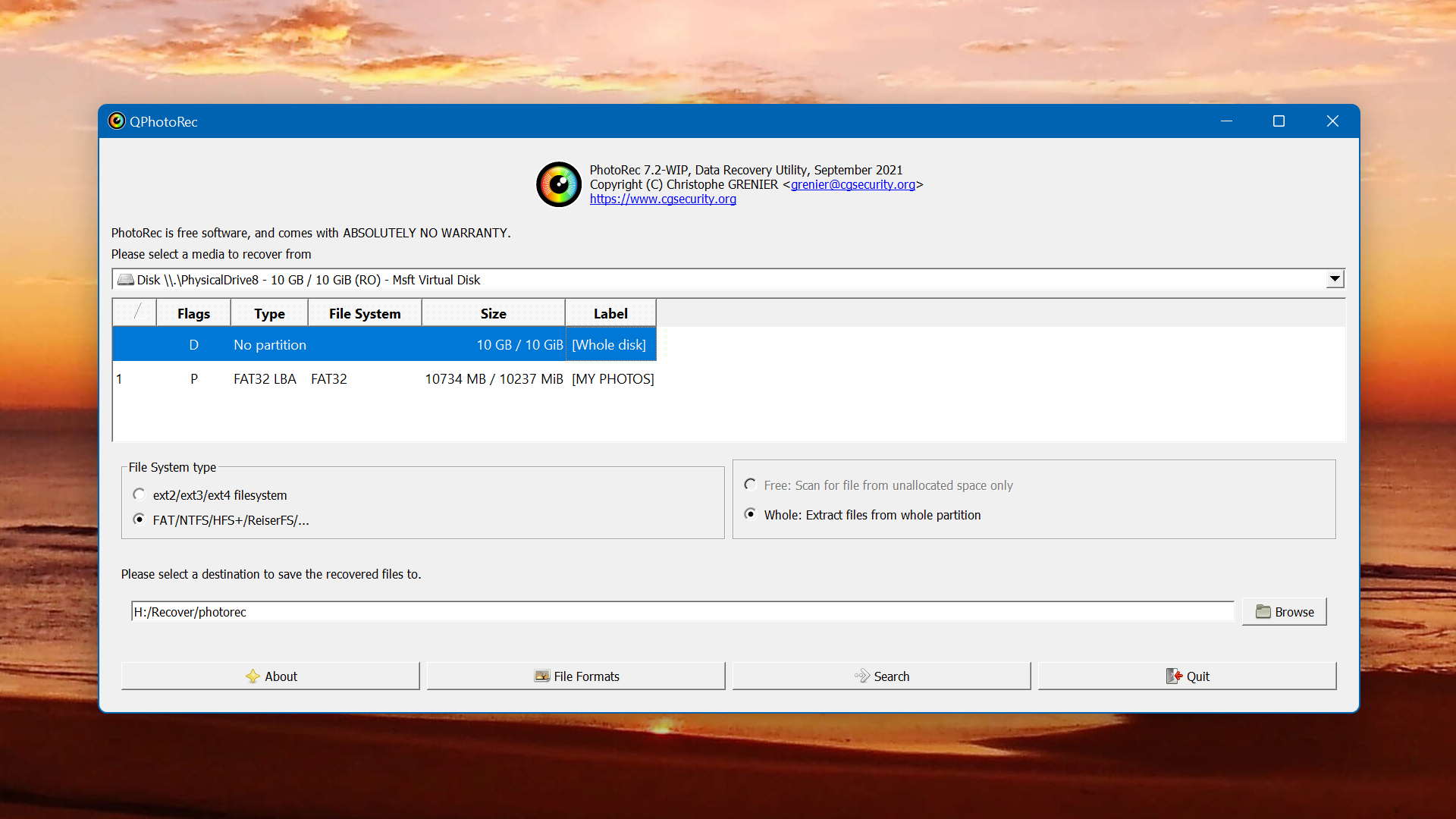 SSD data recovery cost: What is the average price for SSD file recovery?
Here is what you can expect to pay for a reliable software solution as well as when using a professional data recovery service.
Using data recovery software
The average price for reliable data recovery software is slightly less than $100. Some products are more expensive, but that does not always reflect enhanced performance. You can also obtain freeware but your recovery efforts may be limited by its functionality and lack of an intuitive interface. As an example, the EaseUS Technician version costs $299 while R-Studio comes in at $79.99.
Using a data recovery service
There are times when recovery software is not enough but there is still potential for data to be recovered from a device. You may find that a professional data recovery service can get your files back, though it will be a more expensive proposition that using recovery software.
The cost of using a data recovery service varies widely based on the extent of damage to the device and the amount of information that needs to be restored. The time required by the technicians and any special equipment that is needed is rolled into the recovery price. An experienced data recovery professional may command hourly rates between $100 and $300. This can run into a substantial sum of money if the recovery takes any amount of time to complete.
SSD data recovery services: How should one approach them?
If you find yourself with a dead SSD on your hands, you may want to use a professional data recovery service to try and salvage your data. The technicians at a recovery center will employ advanced hardware and software techniques to get your lost data back. Here`s what to expect from a reputable recovery center.
Initial consultation – You will contact the recovery center and explain the problem with your devices and what data you hope to recover from it.
Technical evaluation – The device will be shipped to the recovery center where a technical evaluation will be performed. At this point, the center should be able to give you a firm price for attempting the recovery. You should not be charged if the recovery fails.
Recovery – The recovery center`s technical team will devise a strategy to recover your data. It may include replacing firmware chips or cloning the device.
Media return – When recovery is complete, the center will return your data on an appropriate storage media. They may also securely destroy the original storage device.
Two reputable services that you can check out are Ace Data Recovery and Secure Data Recovery. Contact them by phone or through the web and see how they can help you recover data that is beyond the capabilities of personal data recovery software.
What is an SSD?
The acronym SSD stands for a solid-state drive. It is a nonvolatile storage media that employs solid-state flash memory to store data. SSD drives are comprised of two main components: flash memory chips and a flash controller. The underlying architecture of an SSD is optimized to allow fast read and write performance when satisfying sequential or random access data requests. SSDs do not use mechanical platters as do HDDs. Data is electronically stored in banks of flash memory where it can be rapidly located and accessed.
Why Do Solid-State Drives Get Corrupted?
There are multiple ways that an SSD can get corrupted, including:
Power surges – Solid-state drives are more prone to problems related to power surges than traditional hard drives. Use a surge protector to help guard against damaging your drive in this way.
SSD wear – The flash memory components of an SSD drive are less likely to wear out, but it can happen and corrupt the data on the device.
Malware – Malicious software can cause data loss and corruption on an SSD drive. Make sure you use an updated antivirus tool to minimize the chances of infection.
If you suspect your SSD is corrupted or it shows signs of imminent failure such as degraded performance, take immediate action to protect your data. Create a byte-level backup of the drive that can be used for recovery in the event the drive fails.
SSD is not detected: What to do?
There are a few options you can try if your SSD is not detected by your operating system. Here are some of the most likely fixes to the problem.
Data recovery SSD vs HDD
SSDs and HDDs save information in very different ways that impact the ability to recover deleted data from them. An HDD uses mechanical means to save data magnetically on spinning platters. This leads to wear on the mechanical parts which eventually may fail and lead to lost or corrupted data.
SDDs use flash memory chips to store data. When a file is deleted, the data is erased by clearing the storage cells. The cells can only be erased a limited number of times, which when exceeded, can result in data corruption.
The mechanical nature of an HDD enables data recovery software to recover deleted data that is still physically present on the disk. This is not the case with SSD drives. For this reason, HDDs can have deleted data recovered much more easily than SSDs. Your best protection for an SSD is to regularly backup the drive.
Did you know?
Solid-state drives have evolved from magnetic core memory and card capacitor read-only store technology developed in the 1950s. They were first implemented in semiconductor memory for early supercomputers but were not in wide use due to their price tag. These gradually came down, and in 1991 it cost $1,000 for a 20 MB SSD. For comparison, you will probably be paying less than $100 for an SSD with a capacity of 1 TB in 2020.
Frequently Asked Questions
It is unlikely that you can recover lost data from an SSD with TRIM enabled. TRIM immediately zeroes out storage cells when a file is deleted, making recovery impossible.
SSDs do not retain deleted data for as long as an HDD. With an HDD, the deleted data still physically exists on the drive until overwritten by new data. This enables it to be recovered with software. When storage cells are cleared in an SSD, the data is deleted and not available for recovery.
Based on our experience and testing, Disk Drill checks all the boxes for Mac SSD data recovery software. It offers advanced scanning algorithms, a user-friendly interface, and the ability to create byte-level backups. If the problem can be resolved with recovery software, this tool will do the job effectively and efficiently.
SysTools SSD Recovery is an SSD recovery application for Windows systems. It receives mixed reviews from the user community.
Data recovery experts recommend turning off the device as soon as you discover data loss and creating a byte-level backup to use for recovery. You may need to send the drive to a data recovery center to restore your files and folders.
Yes, there are. You can recover lost data from backup media and may be able to get your data back with a professional recovery service.
Conclusion
Performing data recovery on a solid-state drive poses challenges that are not present when recovering a mechanical hard drive. If TRIM is enabled, deleted files will not be recoverable using data recovery software. However, Disk Drill for Windows can help recover from accidentally partitioning an SSD and is an excellent tool for retrieving data from a failing drive. At the first signs of trouble with your SSD, you should strongly consider using Disk Drill's capability to create a byte-by-byte backup that can be used for data recovery if the SSD does indeed fail. It gives you the best chance of saving your valuable data.
Read Previous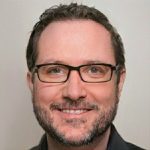 Jeff Cochin
on March 22, 2023
Read Next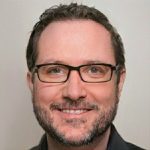 Jeff Cochin
on March 22, 2023
Help Us Improve This Article
Was the provided information useful? Your vote is important to use!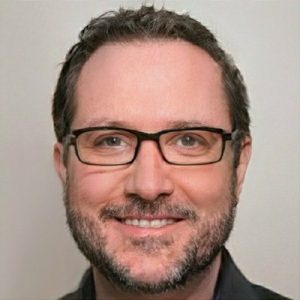 Author
34 publishings

Atlanta, GA
Jeff Cochin is a data management and recovery professional, who has been with Pandorarecovery for nine years and has always been an essential part of the team. Jeff also works as a technical writer at Macgasm, being a first hand in testing, trying and writing about big and small tech software.
Jeff's recent publishings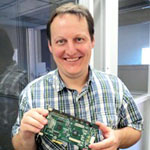 Yevgeniy Tolkunov
Approver
Frisco, Texas, United States
Yevgeniy Tolkunov is Hardware Engineer at ACE Data Recovery. Yevgeniy has a Master's Degree in Physics, Information Technology; 15+ years of experience.