I have accidentally deleted photos from my iPhone, is it possible to recover them all?
Yes, you should be able to recover all deleted photos from your iPhone, but you need to act quickly because the chance of successful recovery decreases with each passing day. Without any further ado, let's take a look at several possible ways to recover deleted files from iPhone.
Solution #1: Recover Pictures from Recently Deleted Folder (Photos App)
📈 Estimated success rate: 50%
It makes sense to start with the quickest and easiest way how to recover deleted photos from the iPhone. Unless you're running a very old version of iOS on your device (older than iOS 8, which was released on September 17, 2014), you have the Recently Deleted folder in the Photos app.
This folder is essentially Trash or Recycle Bin for photos. All deleted photos are automatically moved to the Recently Deleted folder before they are permanently deleted after 30 days. Photos in the Recently Deleted folder show the days remaining before deletion, so you always know how much time there's left before they disappear from your device.
Note: With a capable photo recovery software application like Disk Drill for Mac (see the bonus solutions at the end of this article), the recovery of permanently deleted photos may still be possible, and the sooner you give Disk Drill for Mac a try, the better results you can expect.
To restore photos from recently deleted folder:
Open the Photos app on your iPhone.
Select the Recently Deleted folder. You will see all pictures and videos that have been deleted during the last 30 days, each showing the days remaining before deletion.
Tap the Select button at the top-right and select the images you want to recover by tapping on them. If you want to recover only one image, you can tap on it to open it and select the Recover option.
Tap the Recover button located in the lower-right corner to save your deleted images from permanent deletion.
Open the recovered images from the albums where they were originally located.
Solution #2: Restore Permanently Deleted Photos from iCloud Backup
📈 Estimated success rate: 60%
If you don't have your iPhone anymore, you should know that the Recently Deleted folder, which we describe in the preceding chapter, can also be found on iCloud.com, Apple's cloud storage and cloud computing service.
Deleted photos stay in the Recently Deleted folder on iCloud.com for 40 days, so you have 10 extra days to recover them compared with the Recently Deleted folder on the iPhone, where they stay for 30 days.
To recover photos using iCloud Backup:
Open your favorite web browser and go to iCloud.com.
Select Photos.
Select Albums from the list of options at the top.
Select the Recently Deleted folder.
Select the photos you want to recover.
Click the Recover button located in the top-right corner to begin recovery.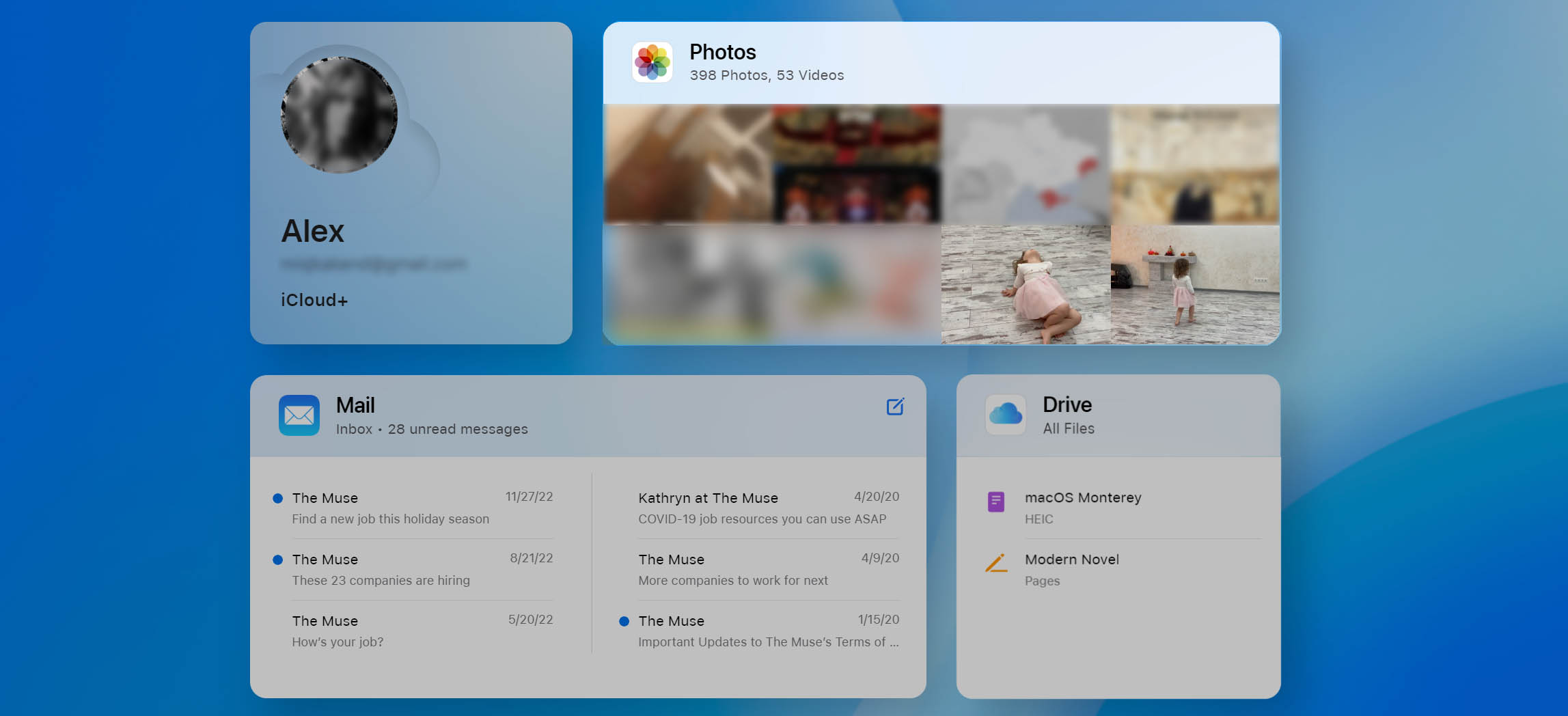 Solution #3: Get Back Deleted iPhone Photos from iTunes Backup
📈 Estimated success rate: 70%
Performing manual backups using iTunes is cumbersome, but it's well worth the effort because of the high recovery success rate. If the previous two iPhone photo recovery methods failed to yield any positive results, follow the instructions below to recover deleted iPhone photos using iTunes.
Note: You won't find iTunes in macOS Catalina and newer. Apple replaced it with three standalone applications: Music, TV, and Podcasts. The backup and restore functionality is now included in Finder.
To restore images from iTunes Backup:
Launch iTunes.
Connect your iPhone to your Mac. If possible, use the original charging cable. There have been many cases of iPhone recovery going disastrously wrong because of a cheap cable.
Select the Restore Backup option located on the Summary page.
Select the most recent backup containing the photos you want to recover.
Click Restore and wait.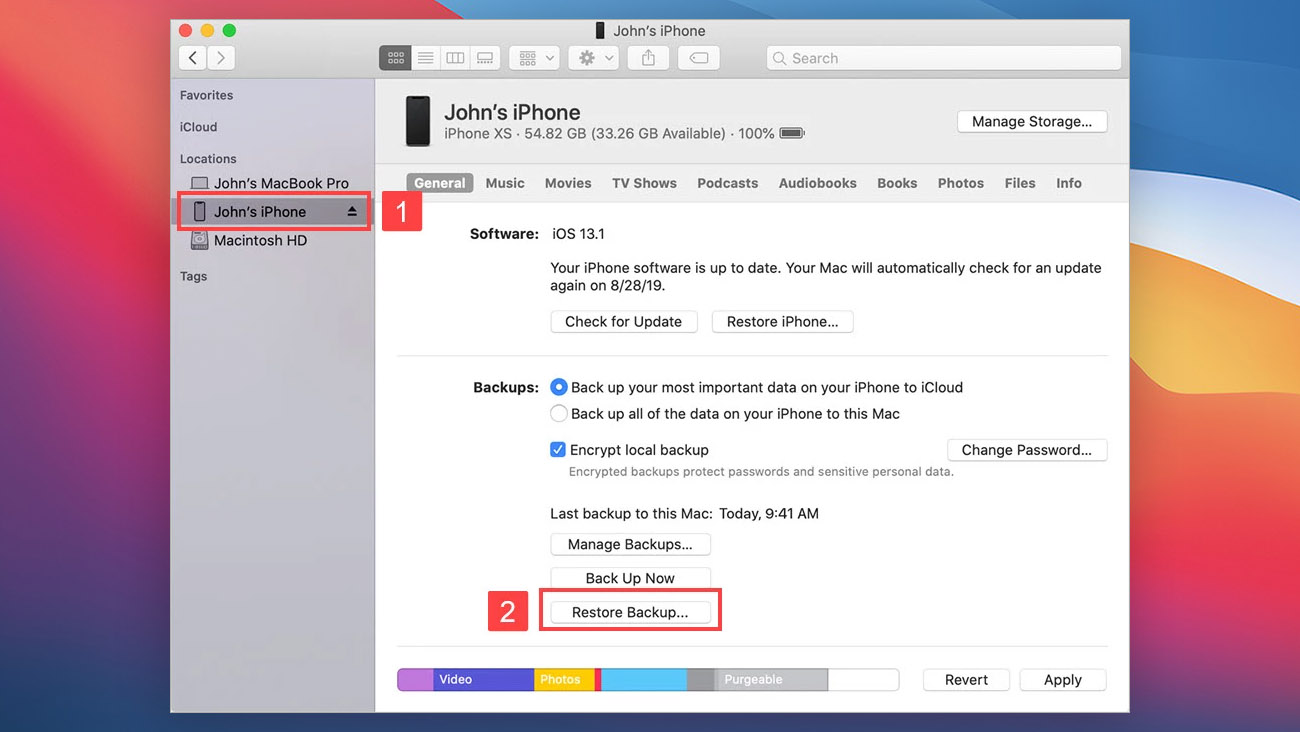 Bonus Solution: Recover Deleted Photos from iPhone with Disk Drill
📈 Estimated success rate: 90%
Our bonus solution, Disk Drill for Mac, can help you recover permanently deleted pictures from your iPhone. Unlike the previous three solutions, Disk Drill for Mac doesn't require a previous backup to work, and there's no time limit attached to it (although the sooner you use it, the better).
It analyzes your iPhone's storage on the file system level, looking for traces of deleted photos and other files. When Disk Drill for Mac finds a deleted photo, it lets you preview it so you know that it's the right one before you click the Recover button and get it back.
To recover deleted photos from iPhone with Disk Drill for Mac:
Download and install Disk Drill for Mac.
Connect your iPhone to your Mac. Select the Trust This Computer option if asked.
Launch Disk Drill.
Click the Search for lost data button next to your iPhone. Disk Drill may ask you for your iPhone's encryption password. Without it, you won't be able to recover photos from your iPhone's encrypted storage.
Wait for Disk Drill to analyze your iPhone.
Select the Photos category from the left panel.
Select the photos you want to recover.
Choose the Recovery folder and click the Recover button in the top-right corner.
Common Causes of iPhone Photo Loss
If you're reading this article because you've recently lost photos on your iPhone, you should know that there are many people who've been in your shoes, some more than once. To avoid future iPhone photo loss, it's useful to know why it happens in the first place.
Firmware Faults
Every version of iOS contained at least one major bug. Some bugs prevent apps from launching, some negatively affect the battery life, and some lead to various odd glitches that ruin the otherwise polished user experience.
In iOS 13, there was a particularly annoying bug that caused apps to refresh spontaneously, often resulting in the loss of unsaved data. Apple fixed the bug relatively quickly, but there's no guarantee that a similar bug won't appear in a future version of iOS.
Instead of racing to be the first person to install a fresh major iOS update, we recommend you exercise patience and wait until you get feedback from other iPhone users.
Storage Failure
Since you don't see the storage chip hidden inside your iPhone, it's easy to forget that it's even there and that it can fail just like any other electronic component. Apple repair service providers regularly see water-damaged iPhones whose storage is no longer accessible, and water is just one of many enemies of Flash storage.
To avoid storage failure, treat your iPhone nicely and avoid exposing it to water, extreme temperatures, dust, and shocks.
Jailbreak
Many iPhone users decide to jailbreak their device because they want to customize their device and discover many useful apps and tweaks that are not available without root permissions. However, jailbreaking can introduce various stability issues and cause apps to misbehave. There are even strains of malware that specifically target the users of jailbroken iPhones.
If you can't resist jailbreaking your iPhone, at least make sure to properly back up all data so that you don't lose them when something goes wrong.
Failed Update
Apple has done a lot to ensure iOS updates go smoothly and never result in a bricked device, but some factors are out of their hands. Your internet connection may suddenly cut off or the supply of electricity to your apartment or house may be interrupted. Again, we recommend you create a complete backup of your photos and other data before you begin the update process. A single update can save you many hours wasted on fruitless recovery attempts.
User Error
By far the most prevalent cause of iPhone data loss are the users themselves. It doesn't take much to accidentally tap the delete button when organizing pictures, and you may not always notice the mistake before it's too late. Even if you're extra careful, it's practically guaranteed that you'll make a mistake sooner or later, so be ready for it and frequently back up your photos so that you can easily recover them.
Expert Advice: Frequently Back Up Your Photos
The only way how you can completely avoid losing valuable photos is to frequently back them up. This will not only protect you from photo loss but also reduce the load on your phone's internal memory and allow you to have access to your photos from any device.
Method #1: Use Apple's Cloud Service to Store You Photos
The good news is that the most straightforward and versatile backup option is already present on your iPhone, and all you need to do to take advantage of it is to activate it. With Apple's cloud backup service, called iCloud, you can store all photos in the cloud and access them from anywhere and any device.
To sync iPhone photos with iCloud Storage:
Open the Settings app on your iPhone.
Tap your Apple ID at the top.
Select iCloud.
Tap Photos.
Tap the iCloud Photo Library toggle at the top of the screen.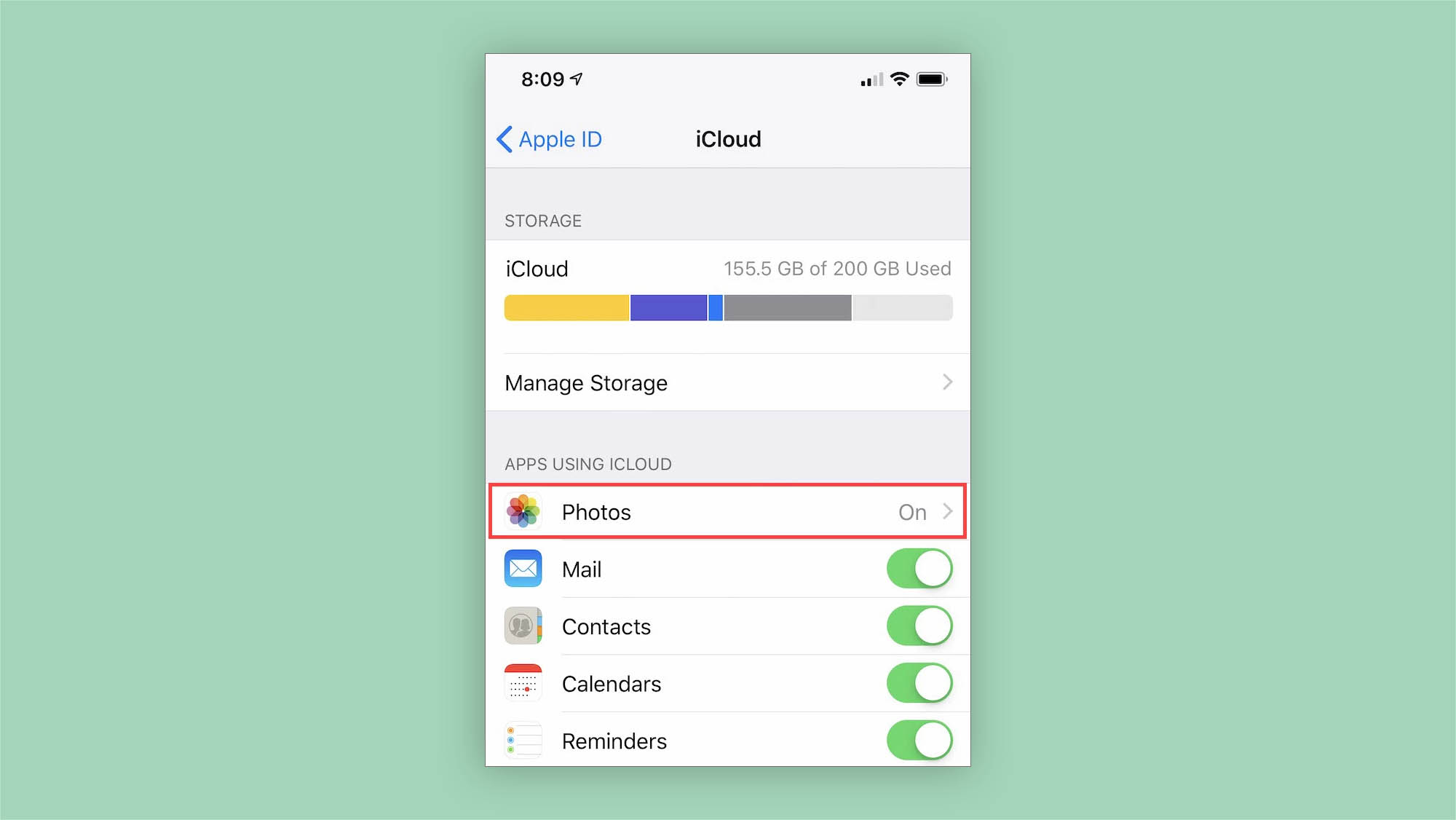 Method #2: Use Alternative Backup Service
iCloud isn't the only cloud backup service that you can use to protect your photos. Other popular options include Dropbox, Google Drive, Mega, and OneDrive. All cloud storage services work more or less the same, so once you've set up one such service, you won't have any trouble figuring out how to set up a different one.
To backup iPhone photos with Dropbox:
Install Dropbox from the App Store.
Launch Dropbox and log in with your username and password.
Tap Account in the bottom right.
Tap Camera Uploads.
Turn on Camera Uploads.
Tap Upload.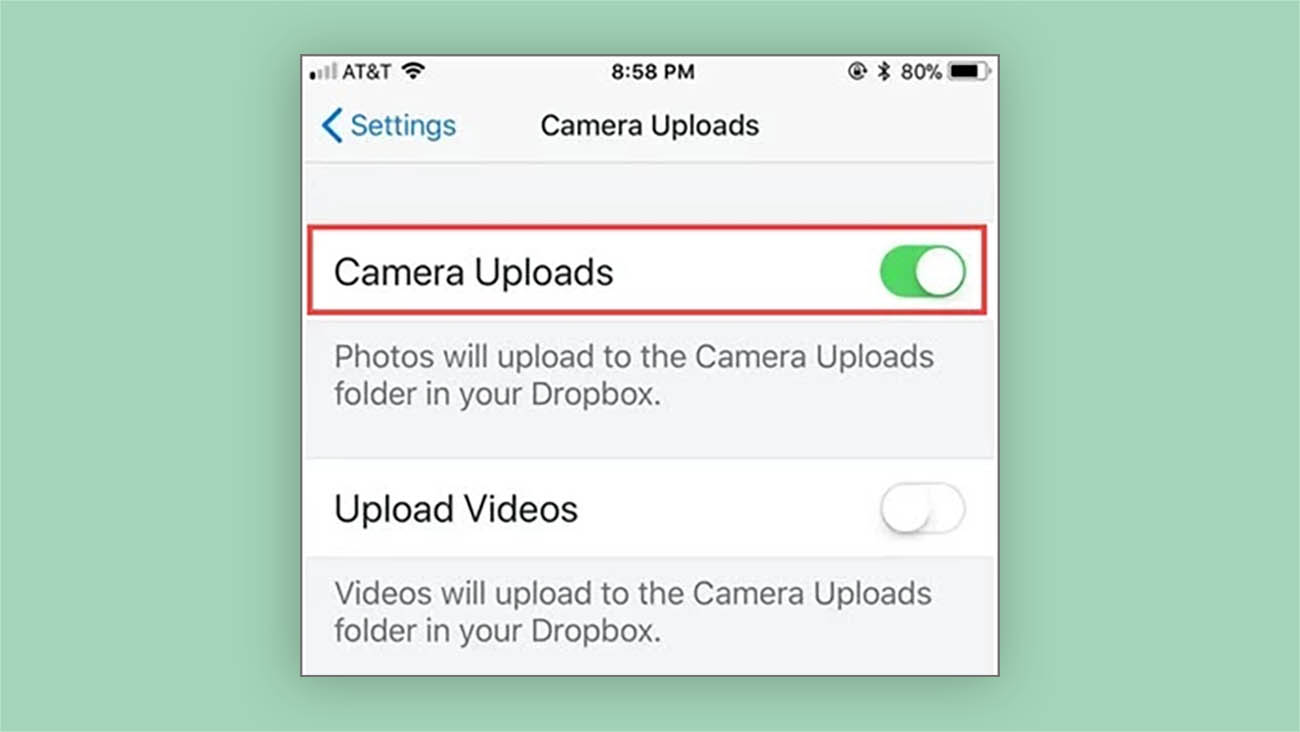 Method #3: Try a 3rd Party Backup Software for Your Mac or PC
There are many third-party backup software applications for Mac and Windows that let you easily back up your entire iPhone with just a few clicks. One such application is Tenorshare iCareFone, and we recommend it because it runs on both Windows and Mac and is compatible with the latest iOS 13/12.4/iPadOS and iPhone 11/11 Pro/XS/XS Max/XR.
To backup iPhone photos with iCareFone Backup:
Download and install iCareFone Backup on your computer.
Connect your iPhone to your computer and launch iCareFone Backup.
Click Backup & Restore from the list of options at the top.
Select photos from the list of available file types.
Click the Backup button in the lower-right corner.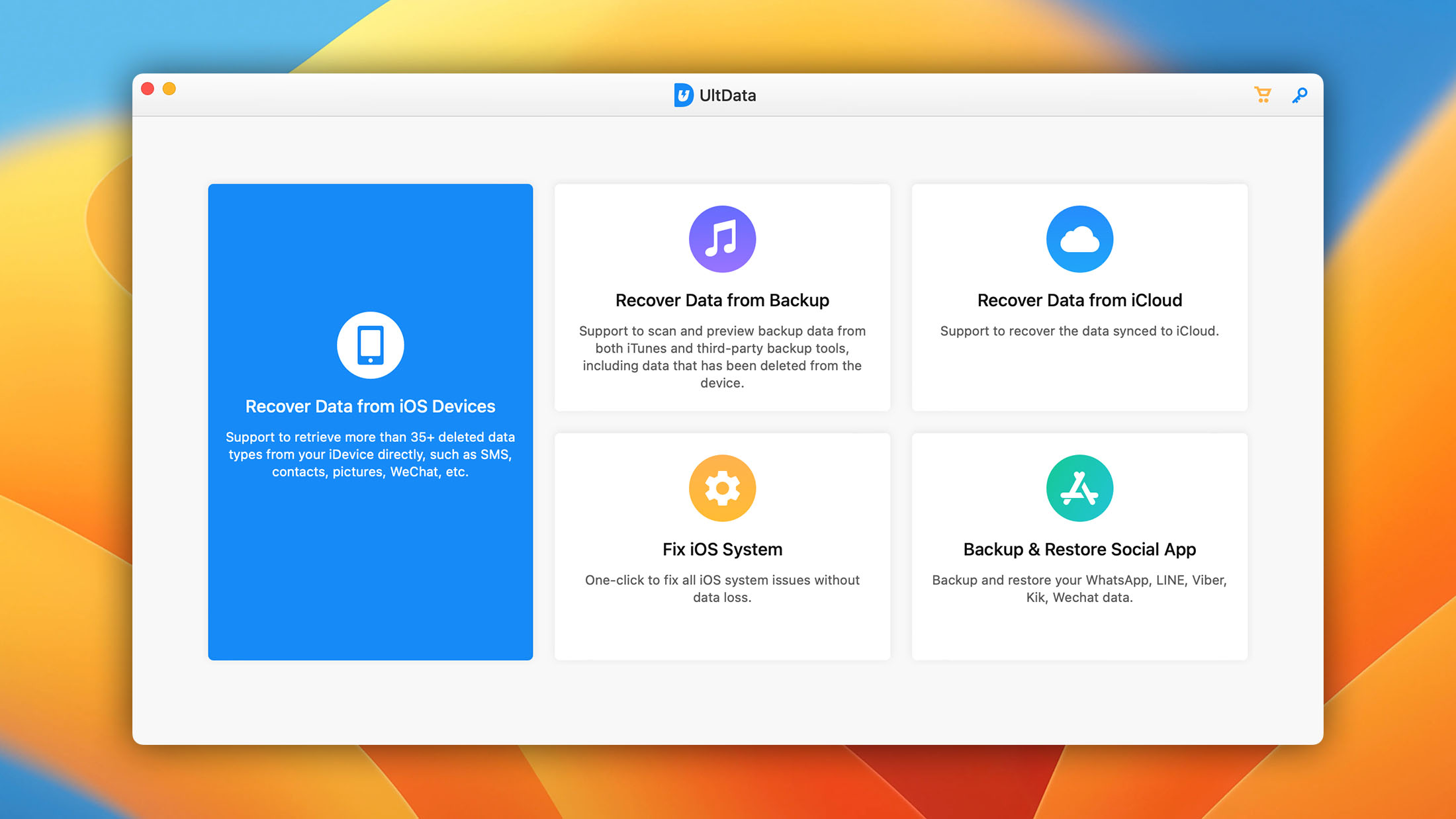 Did You Know?
The FBI has been trying for a long time to force Apple to release a tool that would allow it to crack into encrypted iPhones, but without any success. If you somehow manage to lose access to an encrypted iPhone, even the best photo recovery software in the world won't be able to recover your photos. At least you can rest assured, knowing that no one else won't be able to recover your photos as well.
Frequently Asked Questions
How to recover photos from an iPhone without a backup?
To recover photos from an iPhone without a backup, we recommend Disk Drill, a photo recovery application capable of reconstructing permanently deleted images from iPhone's storage.
Connect your iPhone to your Mac.
Download, install, and launch Disk Drill.
Click the Recover button next to your iPhone.
Select photos for recovery and click the Recover button again.
How to recover photos from a broken iPhone?
Unfortunately, there's no easy way how to recover photos from a damaged iPhone. If the device doesn't even turn on, your only option may be a professional data recovery service that specializes in iPhone photo and data recovery.
How to recover photos from a disabled iPhone?
While there are some software applications that promise to recover photos from a disabled iPhone, they typically only work with older models. If your iPhone ever becomes disabled and you need to recover photos from it, your best bet is to recover them from a cloud storage service like iCloud or Dropbox.
How to recover photos from a lost iPhone?
Without physical access to your iPhone, you have two options on how to recover lost and deleted photos. You can either download them from your cloud storage service or recover them from an older backup. The former option is much more convenient because you can access your cloud storage service from any device.
How to recover photos from a locked iPhone?
Unless the photos you want to recover are part of an earlier backup or saved in the cloud, you won't be able to recover them. Many of the world's best cybersecurity experts have attempted to break Apple's encryption and device protection, but all of them have failed so far.
Help Us Improve This Article
Was the provided information useful? Your vote is important to use!
16597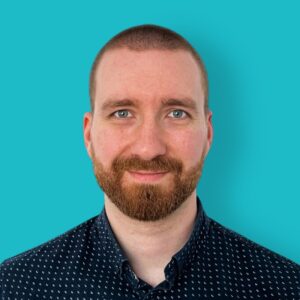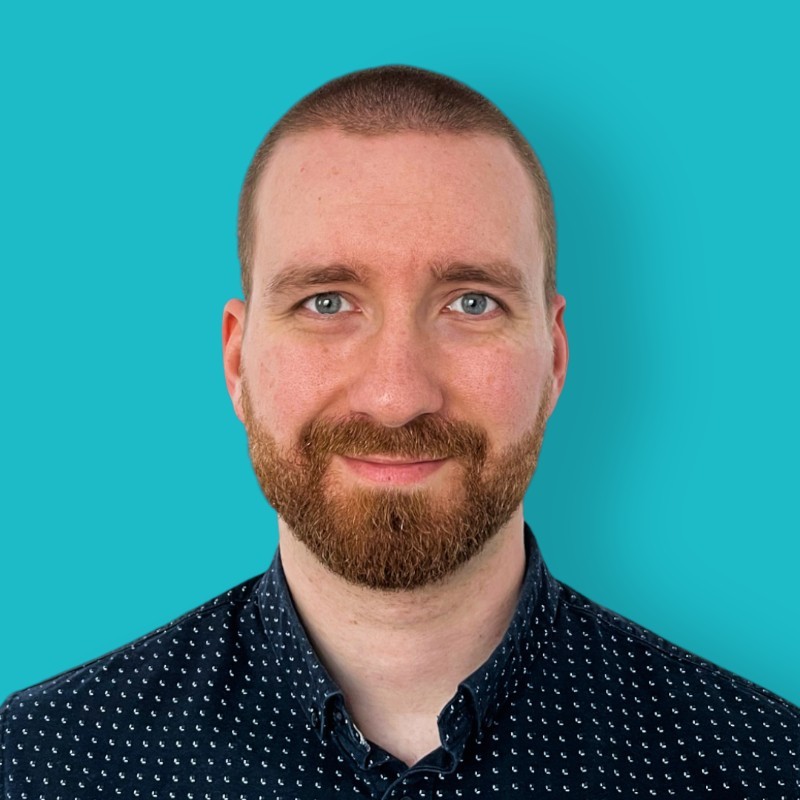 Author
David Morelo is a professional content writer with a specialization in data recovery. He spends his days helping users from around the world recover from data loss and address the numerous issues associated with it.
When not writing about data recovery techniques and solutions, he enjoys tinkering with new technology, working on personal projects, exploring the world on his bike, and, above all else, spending time with his family.
David's recent reviews
David's recent publishings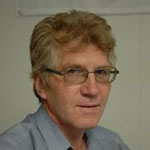 Nikolay Lankevich
Approver
Houston, Texas, United States
Nikolay Lankevich has over 15 years of strong experience in various fields and platform includes Disaster Recovery, Windows XP/7. System analysis, design, application (Inter/Intranet) development, and testing. Provided technical supports on desktop and laptops on Win-XP and Macintosh for about 2000 employees.