How to Retrieve Deleted Text Messages on iPhone
If you're like most iPhone users, the Messages app is one of the most-used apps on your device. The text messages it contains likely include previous and current appointments, snippets of information you may need in the future, and heart-warming conversations with friends and family members.
Accidentally deleting even a couple of text messages can feel like a punch to the gut, but there's no reason to despair just yet. The methods described in this article can be used to retrieve deleted text messages on iPhone after accidental deletion and other causes of data loss.
Can You Recover Your Lost iPhone Text Messages?
To answer this question, we need to briefly discuss how text messages are stored on iPhone.
When you receive a new text message, the Messages app creates an entry in its SQLite database. What's that? Well, it's an open-source database that can be used to store all kinds of information in the form of a text file. A single SQLite database can easily contain thousands of messages, and it keeps them organized in a way that allows the Messages app to retrieve them in no time.
Messages become lost when the SQLite DELETE command is issued to remove records from the database or when the database itself becomes corrupted or deleted.
Fortunately, the latest version of iOS doesn't issue the DELETE command immediately, and the SQLite database is included in offline and cloud backups, so it's often possible to recover deleted texts on iPhone. What's more, there are iPhone recovery software applications that make iOS message recovery dead simple and deliver fantastic results.
Best 5 Methods to Recover Deleted Messages on iPhone
We don't want to scare you, but the time to recover deleted text messages from your iPhone may be running out. To achieve the best results as quickly as possible, we recommend you go through the methods described below in the order they're listed.
Method 1: Recover Recently Deleted Messages from the Messages App
When is this method useful? This method can save the day when you accidentally delete an important message using the Delete Message option in the Messages app.
With the release of iOS 16 and iPadOS 16.1, Apple finally introduced the ability to recover recently deleted messages directly from the Messages app. Deleted SMS texts are recoverable for up to 30 days after their deletion.
Here are the steps you need to follow:
Launch the Messages app on your iPhone.
Tap the Edit button in the top-left corner.
Select the Show Recently Deleted option.
Select the conversation or conversations you want to recover.
Tap the Recover button in the bottom-right corner.
Confirm your decision to restore the selected texts.
Tap Done to close the Recently Deleted screen.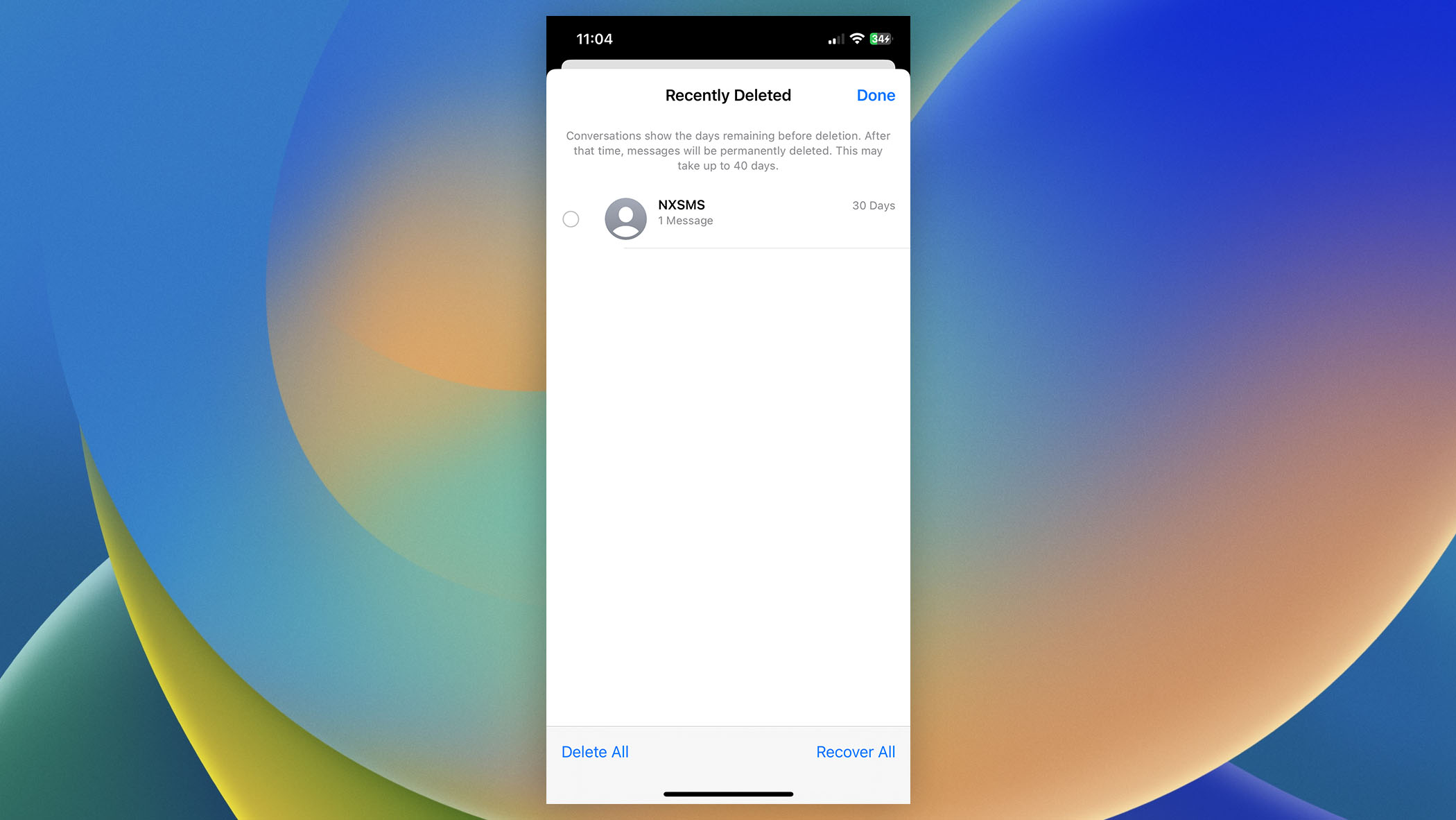 The recovered messages should now be displayed among other messages.
Method 2: Use Your iCloud Backup to Recover Deleted Text Messages
When is this method useful? Apple auto-deletes iCloud backups 180 days after you stop using the iCloud Backup feature, so this method can be used to retrieve even permanently deleted texts that have been erased from the Recently Deleted history, which is kept for only up to 40 days.
If you use iCloud to back up your iPhone, you should be able to recover all deleted text messages by following the instructions below. We just need to warn you that this method requires you to restore your iPhone to its factory settings.
Once you do that, you'll be able to use an older iCloud backup to recover all your settings, apps, and data. If that sounds like too much of a hassle to you, we recommend you check out the other solutions described in this article.
Follow these steps to recover deleted text messages from an iCloud backup:
Open the Settings app.
Go to General and choose the Reset option.
Tap Erase All Content and Settings and confirm your choice by clicking the Erase Now button.
Follow your phone's instructions until you see the Apps & Data page.
Choose Restore from iCloud Backup.
Sign in to iCloud.
Choose the most recent backup that contains the deleted text messages from the list of available iCloud backups.
Wait for the recovery process to finish.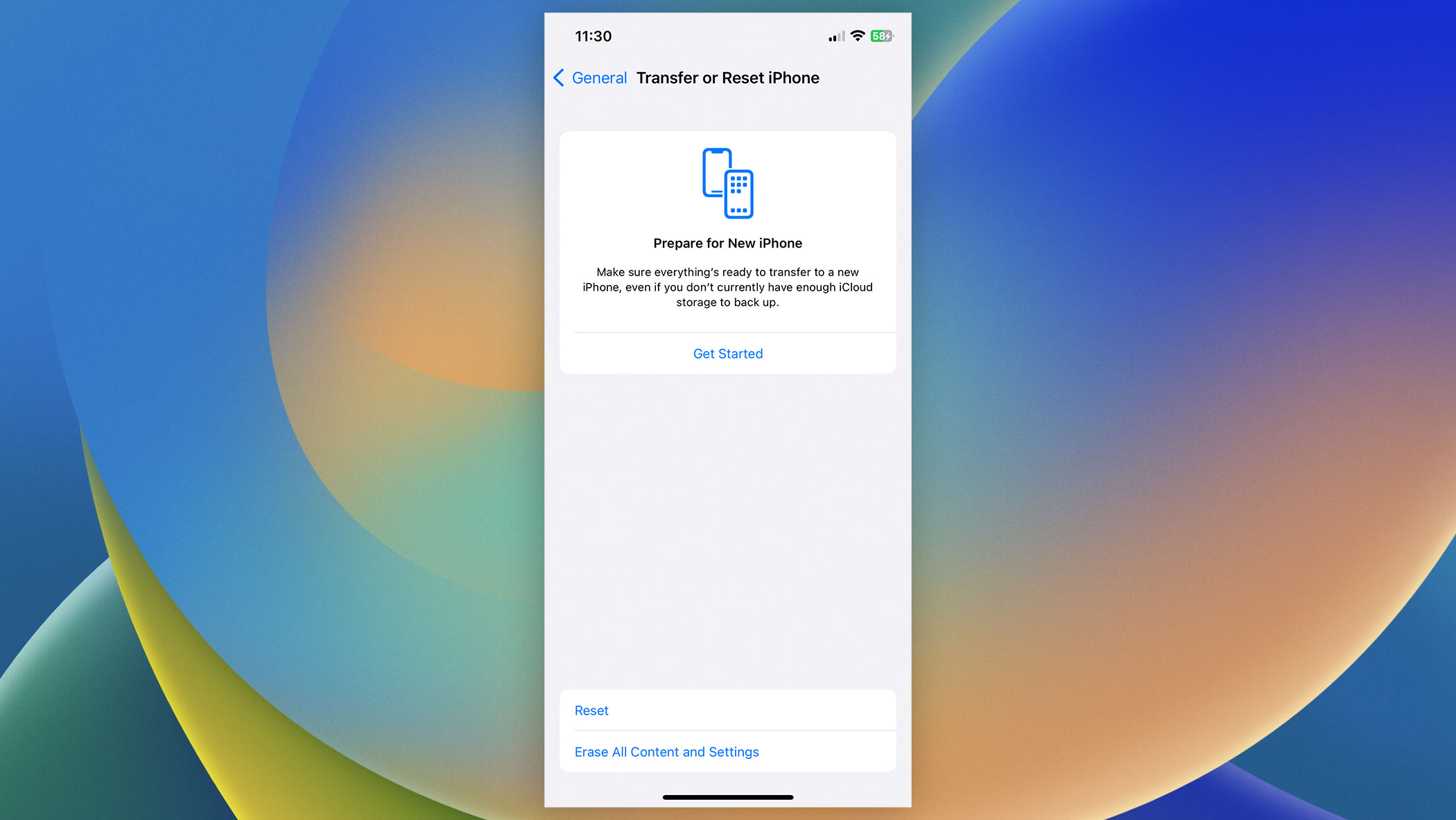 When the recovery is over, you will most likely have to sign in again to all your accounts.
Method 3: Retrieve Deleted Text Messages from a Local Backup
When is this method useful? You can use this method to retrieve all deleted text messages even if you don't use iCloud and your iPhone has been wiped clean.
Have you recently created a local backup of your iPhone using Finder or (if you have an older Mac) iTunes? If so, you're in luck because it contains the missing messages, and recovering them takes just a few simple steps.
Just like when performing the iCloud restore process, all data you currently have on your iPhone, including WhatsApp messages, iMessages, downloads, pictures, and videos, will be overwritten by the local backup. As such, you should proceed only if there's nothing on your phone you're not ready to use.
Let's go through the steps for undeleting messages by restoring a local backup:
Connect your iPhone to your Mac.
Launch Finder and select your iPhone under Locations.
Click the Restore Backup button in the General tab.
Pick the most relevant backup.
Enter your password if asked and click Restore.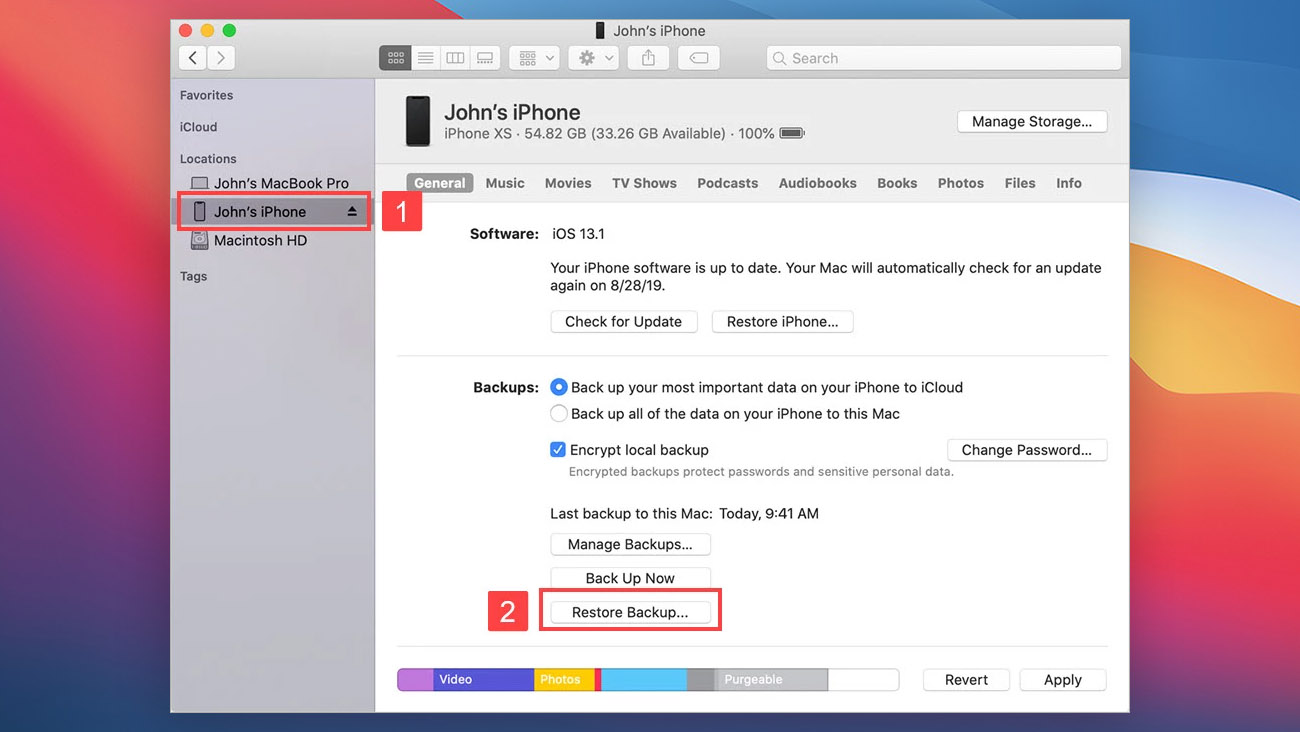 If you still use iTunes to backup your iPhone, follow these steps instead:
Connect your iPhone to your Mac.
Launch iTunes and go to the Summary page.
Click the Restore Backup button.
Pick the most relevant backup.
Enter your password if asked and click Restore.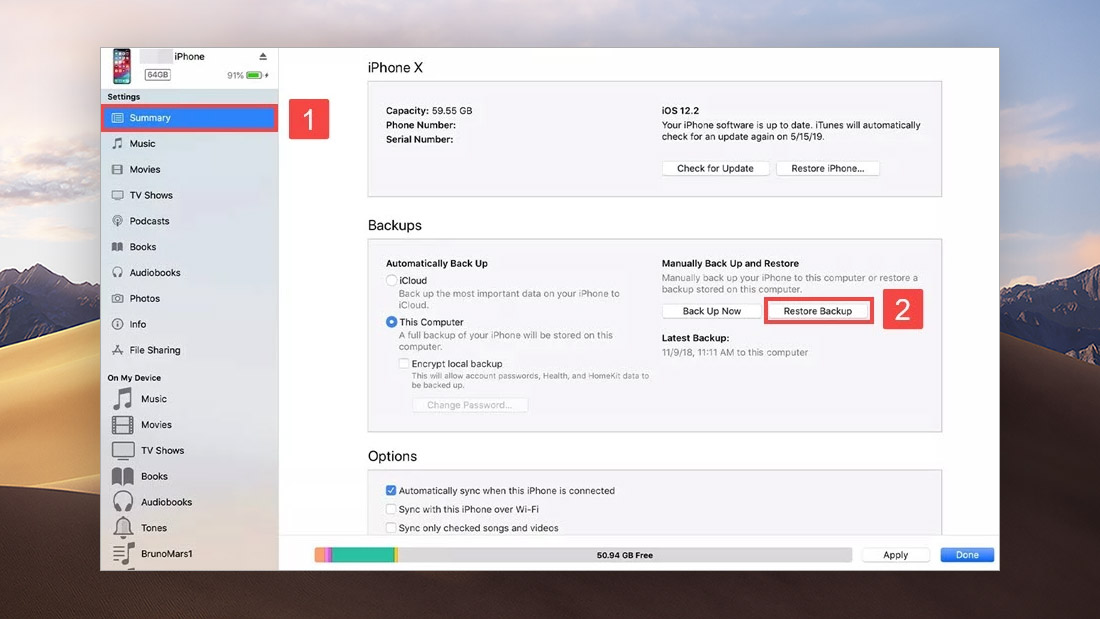 Method 4: Use Disk Drill to Recover Deleted Text Messages on iPhone
When is this method useful? Use this method if you don't have any backup of your text messages but you do have your iPhone at hand and in a working state.
A data recovery application like Disk Drill for Mac (you can read this full review to learn more about it) can be used to find deleted text messages on iPhone by first creating a complete copy of all stored data and then running advanced data recovery algorithms to locate and retrieve lost data, including messages.
Follow these steps to retrieve deleted texts with Disk Drill for Mac:
Download and install Disk Drill for Mac.
Connect your iPhone to your Mac.
Launch Disk Drill and select the iPhones & iPad tab in the left pane.
Choose your iPhone and click "Search for lost data".
Give Disk Drill the time it needs to finish scanning and then review the results.
Choose the Messages filter in the left pane.
Select all messages you want to recover.
Click the Recover button.
You can also use the data recovery software to scan a specific local iOS backup file. Here's how to import it:
Launch Disk Drill and select the iPhones & iPad tab in the left pane.
Click the Import iOS backup option at the bottom.
Select the iOS backup you want to scan.
As you can see, it's easy to recover deleted text on iPhone with Disk Drill for Mac, and the same can be said about restoring other data—not just from iPhones. Unfortunately, the Windows version of Disk Drill can't recover iOS data, but it can ace most other data loss challenges.
Method 5: Ask the Sender to Send the Deleted Text Message Again
When is this method useful? If you've recently lost a message sent to you by a real person.
Sometimes, the simplest solutions are the most effective. If you need to recover a text message because it contains important information that was sent to you by a real person, then you can simply ask the person to send the message again.
Sure, you may feel slightly embarrassed about the situation, but missing an important appointment or date because you were too afraid to ask the sender to send the missing message again would be even more embarrassing.
Bonus Method: Send Your iPhone to a Professional Data Recovery Center
When is this method useful? You should consider sending your iPhone to data recovery professionals if the device is physically damaged or if you value your time more than you value your money.
The methods we've described in this article assume that your iPhone is working and your data are backed up in the cloud or on your Mac. But what if your iPhone isn't working because it has been physically damaged and you don't have a backup that you could use to transfer data to a new device?
In situations like that, it's a good idea to visit a professional data recovery center. The experts employed by leading data recovery centers can repair even badly damaged iPhones before retrieving lost data from them.
The services of data recovery professionals are not cheap, but they might be worth it depending on how much you value the lost messages and your time. If nothing else, consider asking for a free evaluation to see how much the recovery would cost.
Keep Your iPhone Messages Safe
They say that an ounce of prevention is worth a pound of cure, and that's certainly the case when it comes to preventing the loss of iPhone messages. The following tips can help you keep your iPhone messages safe:
Be careful when using your iPhone: Most messages get lost when iPhone users are not careful. For example, I've once deleted several of my messages because I accidentally selected them when freeing up space and removing clutter. Mistakes like this can be prevented by double- or triple-checking everything before tapping the Delete option.
Back up your data: Backups are and have always been the best protection against data loss. However, they're useful only if you maintain a regular backup schedule and store them someplace safe, such as on an external hard drive or in the cloud. To decrease the chance of losing important data even further, we recommend you combine manual backups with automatic cloud backups.
Start with the solution that's most likely to work: To save time and maximize your chances of successful recovery, start with the solution that is most likely to work and move on to other solutions only when it doesn't. You definitely don't want to mindlessly try all kinds of random solutions described on the internet because some of them could make the situation even worse.
Frequently Asked Questions
How to retrieve deleted text messages on iPhone without a backup?
To retrieve deleted text messages on iPhone without a backup:
Download, install, and launch Disk Drill for Mac.
Open the iPhones & iPad tab.
Select your device.
Click Search for lost data.
Select all messages you want to recover and click the Recover button.
How to recover permanently deleted text messages?
Permanently deleted text messages that are no longer present on your iPhone can be recovered from a cloud or local backup.
How to view deleted text messages on iCloud?
Unfortunately, it's not possible to view deleted text messages by logging in to iCloud on the web.
How to recover deleted text messages on iPhone without a computer?
If you don't have access to a computer that you could use to recover your deleted text messages using the best recovery software like Disk Drill, then you can retrieve them using the Restore from iCloud Backup option.
Conclusion
As an iPhone user, you have several options on how to recover deleted text messages, including data recovery apps and existing cloud or local backups. In this article, we've described multiple tried-and-tested methods in the order we recommend you try them. With some luck, you should be able to complete the recovery process painlessly and successfully.
Help Us Improve This Article
Was the provided information useful? Your vote is important to use!
12500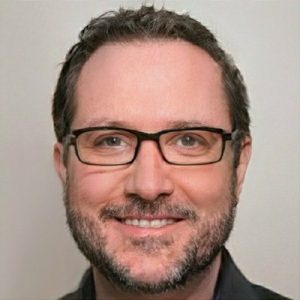 Author
34 publishings
Atlanta, GA
Jeff Cochin is a data management and recovery professional, who has been with Pandorarecovery for nine years and has always been an essential part of the team. Jeff also works as a technical writer at Macgasm, being a first hand in testing, trying and writing about big and small tech software.
Jeff's recent publishings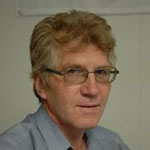 Nikolay Lankevich
Approver
Houston, Texas, United States
Nikolay Lankevich has over 15 years of strong experience in various fields and platform includes Disaster Recovery, Windows XP/7. System analysis, design, application (Inter/Intranet) development, and testing. Provided technical supports on desktop and laptops on Win-XP and Macintosh for about 2000 employees.